04. Jazzfest München 1993
Mittwoch, 08.09.1993
19:00 Harald Rüschenbaum Quintet
ladies & gentleman: the bazaar is open!
Harald Rüschenbaum dr, Adrian Mears tb, Johannes Enders ts, Eugen Apostolidis b, Heinz Frommeyer p.
20:00 Peter O'Mara's Cross Rhythms
from "down under" and everywhere else
Peter O'Mara git, Johannes Enders ts, Roberto Di Gioia p, Henning Sieverts b, Falk Willis dr.
21:00 Pro Susi
contra the rest of the world
Roland HH Biswurm div. Instr., Rolf Bauer div. Instr., Rudi Mahall div. Instr.
22:00 Sleepless Nights
of course we expect at least five! Hip that bop
wolfgang Roth as, cl, gil Kaupp tp, Wolfhard Metz ts, fl, Sandro Ricciarelli git, Manolo Diaz b, Joe Baudisch dr.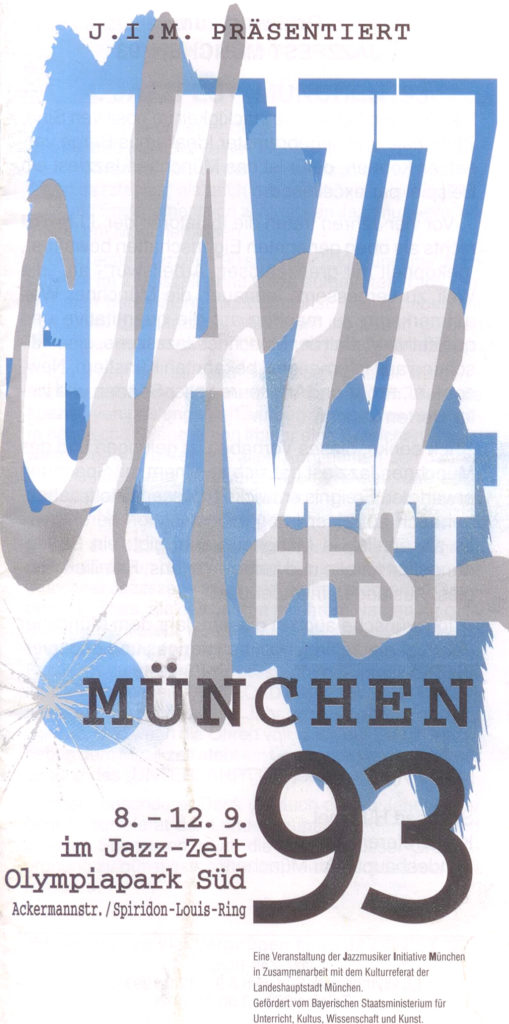 23:00 Michael Sagmeister / Peter Wölpl
plugged guitarreros….
Michael Sagmeister git, Peter Wölpl git.
Donnerstag, 09.09.1993
19:00 The Four Stressmen
you will be de-stressed after this
Andy Lutter p, Mike Sim sax, Alex Haas b, Sunk Pöschl dr.
20:00 Jenny Evans Quartet
very special hour
Jenny Evans voc, Gerd Bickl p, Karsten Gnettner b, Stephan Eppinger dr.
21:00 Larry Porter Quintet
modern times with old friends
Larry Porter p, Allan Praskin as, Tony Lakatos ts, Thomas Stabenow b, Billy Elgart dr.
22:00 Munich Saxophone family & Ruth Geiersberger (voc)
four men and a lady
Ruth Geiersberger performance/voc, Thomas Zolles bs, Jürgen Seefelder ts, Roman Schwaller ts, Evan Tate as, fl.
23:00 Coisa Nostra
a mafia of the third kind
Paulo Alves voc/git, Gert Wilden jr. Keyb, Patrick Scales b, Claudio Wilner perc, Elmar Schmidt dr.
Freitag, 10.09.1993
19:00 the Bridge
over clear waters
Lisa Cash voc, Miachel Green as, ts, Evan Tate as, Roland Reinke git, Andreas Ulbricht keys, Peter Hops b, Martin Woron dr.
20:00 Leszek Zadlo ts/ss
And the Young Power Big-Band Konservatorium würzburg
Younger than ever
21:00 Falk Willis, Ethan Iverson & Johannes Weidenmüller feat.: Dewey Redmann ts
the kids and the master
Dewey Redmann ts, Ethan Iverson p, Johannes Weidenmüller b, Falk Willis dr.
22:00 Ecco
the non-ec-clectical co-operation
Robert Besch tp/ts/synth, Joseph Wollinger git, Klaus Pfister sax/schalmei, Gero Kempf b, Max Bauer perc, Alhard v. Nordenskjöld dr.
23:00 Se Formo!
Salsa bones
Augusto Aguila voc, David Lewis voc, Adrian Mears tb, Erwin Gregg tb, Johannes Herrlich tb, Gerd fink tb, Mauricio Diaz p, Paolo Camargo b, Ramon Plaza bongo, Roger Mansebo timb, Cesar Granados cong.
Samstag, 11.09.1993
16:00 Le Petit Chien
The poodle bites
Geoff Goodman g, Bernd Hess g, Werner Klausnitzer keys, Alex Haas b, Maurice de Martin dr.
17:00 Varner – Wolfrum – Moss
what ever will happen….will happen
Christofer Varner tb/didgeridoo/electronics, Martin Wolfrum p/Frequenzabtaster, David Moss dr/perc/voc/electronics
18:00 Unsere Lieblinge
Prince goes to Parker
Alex Haas b/voc, Stefan Noelle dr/voc
19:00 New Cotton club Orchestra
welcome to the club
Wolfgang Bojer ld/corn, Peter Kraupe corn, Mario Davini tb, Helmut Netter sax, Bernhard Ullrich sax, Anton Dvorak sax, Thomas Noichl p, Udo Klug bjo, Stani Jone sous, Hans Küfner dr.
20:00 Modern String Quartet & Chris Lachotta & Mark Ramsden
unplugged & live on JIM-TV
Jörg Widmoser viol, Andreas Zrenner viol, Andreas Höricht viola, Jost-H. Hecker cello, chris Lachotta b, Mark Ramsden as.
21:00 A Capella from Bulgaria: The Folk-Scat Band
they sing the difference
Mariana Vlaeva, Antoaneta Krumova, Diana Dimova, Evgenii Dimitrov, Kiril Todorov
22:00 Hannes Beckmann Quartet feat. Bireli Lagrene git
the gypsy dukes
Hannes Beckmann viol, Edgar Wilson p, Rudi Schröder b, Imre Köszegi dr.
23:00 William Powell & Friends
25 years of soul in munich
William Powell voc/git, Ernie Butler sax, Hermann Breuer tb, Jimmy Jackson p/keys, Fritz Streiter b, Peter Müller voc/dr.
Sonntag, 12.09.1993
16:00 Hornstein Trio
bracing the high skies full
Michael Hornstein as, Chris Lachotta b, Fred Braceful dr.
17:00 Rick Keller Quartet
a walk thru the jazz-forest
Rick Keller sax, Martin Kälberer p, Litschie Hrdlicka b, Emmanuel Hauptmann dr.
18:00 Paulo Cardoso's Bassically Yours feat. Nene (perc)
regards from brasil with jazz
Allan Praskin cl/as, Johannes Enders ts/ss/fl, Stephan Schmid p, Paulo Cardoso b, Mario Gonzi dr
19:00 Hirson – Goodman Duo
from "folk" to "free" and all the other ways, too
Chris Hirson ss, Geoff Goodmann git/mando-cello
20:00 Peter Tuscher Quartet
definetely with chaser
Peter Tuscher tp, Martin Zenker b, Stefan Schmid p, Mario Gonzi dr.
21:00 Klaus Doldinger's Jazzport
back in the harbour
Klaus Doldinger ts/ss, Roberto di Gioia p, Jochen Schmidt b, Wolfgang Haffner dr.
22:00 Bill Bickford – Wolfgang Schmid – Omar Belmonte
the senfless tour – you mustard hear this!
Bill Bickford git, Wolfgang Schmid b, Omar Belmonte dr.
23:00 Conexion Latina feat. Benny Bailey & Nicky Marrero
the finale grandioso
Rudi Fuesers tb/ld, Benny Bailey tp, Rich Laughlin tp, Claus Reichstaller tp, Peter Tuscher tp, Javier Plaza voc, Anthony Martinez voc/fl, Jose Avila p, Tomas Perez b, Claus Tofft conga, chico Diaz coro, Daniel Moreno bongo, Nicky Marrero timbales.