05. Jazzfest München 1994
Mittwoch, 14.09.1994
19:00 Zoll Meets the Master Franks
welcome to the party
Thomas Zoller bs/composer, frank Möbius git, Sebastian Strempel tp, Norbert Nagel as/cl, Michael Lösch waldhorn, Rudi Mahall bcl, Ralph Bauer tuba, Christian Diener b, Wolfgang Haffner dr.
Evan TatE e.T. 03
The real ET made two extra calls
Evan Tate as/ss, Henning Sieverts b, Falk Willis dr.
The Double You-Be And Safado Zakedy
What a name
Chris Hirson saxes, Klaus Füger b, Helmut Troendle & Dirk Hauptmann perc/voc, Walter Bittner dr/voc, electronics.
Jazzkränzchen Immergrün
Ganz in Blau – von Satchmo bis Monk
Hartmut Ruther tb, Gerald Groß cl/ss/as/ts, Jürgen Buchholtz tp/flh, Uli Rau sousaphon, Karl Schmid bj, git, Hermann Beck p, Manfred Dworsky dr.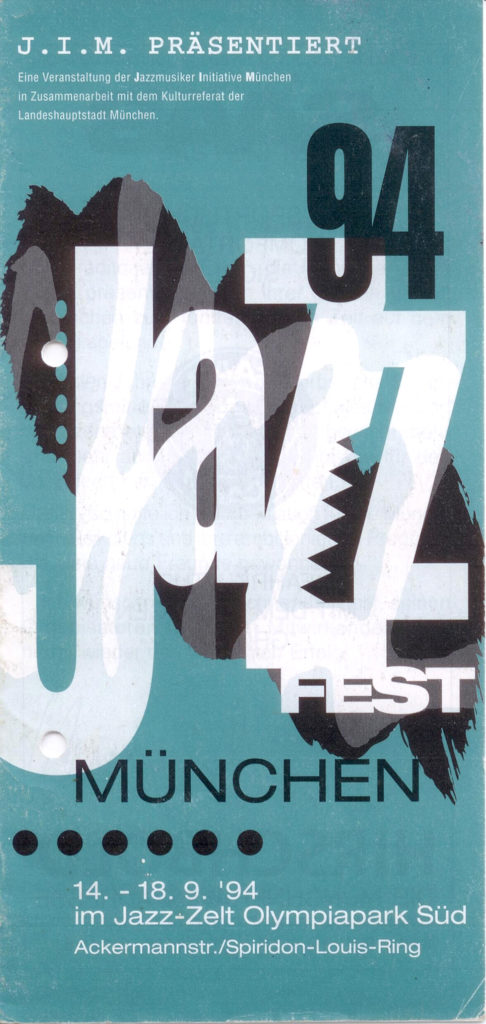 Donnerstag, 15.09.1994
19:00 Bavarian First Herd
Ltg. Harald Rüschenbaum (LandesJugendjazzorchester Bayern)
These kids are hot
Tp: Edwin Göppel, Franz Garlik, Michael Acher, Andreas Mederl
Tb: Jürgen Neudert, Stefan Funk, Julia weder
Btb: Christian Sommerer
As: Kim Barth, Florian Trübsbach
Ts: Johannes Strempel, Norbert Emminger
Bs: Gregor Bürger
Klaus Dieter Bandorf p, Rüdiger Eisenhauer git, Markus Schieferdecker b, Andreas Gandela dr, Harald Rüschenbaum leader.
Gerry Hayes Swing Explosion feat. Charly Antolini
These genlemen are also hot
Gerry Hayes vibes/voc, Charles Höllering cl, Thilo Wagner p, Karsten Gnettner b, Charly Antolini dr.
Die Konferenz (18 Piece Sound Orchestra)
Hat entschieden, daß…
Tp: Claus Reichstaller, Peter Tuscher, Franz Weyerer
Tb: Hermann Breuer, Roberto Mandruzatto
Btb/tuba: Leo Gmelch, Martin Fredebeul as/ss/bcl.
Ts: Matthias Schubert, Roman Schwaller
Rudi Mahall bcl/cl/scratching, Thomas Zoller bs/comp, Mic Oechsner viol, Gerd Baumann git, Stefan Schmid p, Marc Abrams b, Andreas Krieger dr, Sascha Gotowtschikow perc, Ruth Geyersberger (diseuse)
Martin Schmitt – Christian Willisohn
Both kinds of music – the Boogie and the Woogie
Martin Schmitt p/voc, christian Willisohn p/voc
Freitag 16.09.1994
18:00 Apostolidis – Sim – Boudreaux
Three men in a coat
Mike Sim ts, Eugen Apostolidis b, Jeff boudreaux dr.
Munich Bigband, Ltg. Dusko Goykovich
The balkan suite in new suits
Dusko Goykovich tp/flh/comp/arr/cond, Thomas Bendzko tp/flh, Heinz Dauhrer tp/flh, Richard Büchel tp/flh, Gil Kaupp tp/flh, H.H. Bettinger tb, Gerd Fink tb, Erwin Gregg tb, Auwi Geyer btb, Rick Keller as, Thomas Bouterwek as, Ingo Erlhoff ts, Wolfhard Metz ts, Brenhard Ullrich bs, Christian Doepke p, eric Stevens b, Harald Rüschenbaum dr.
Round the Outside, Olaf Kübler… feat. Dr. Lonnie Smith & Bill Bickford
A strange meeting at the "White House"
Olaf Kübler sax, Dr. Lonnie Smith B3-Hammond, Bill Bickford git, Kenny Martin dr.
Michael Hornstein Trio
An embraceable hornful
Michael Hornstein as/comp., Chris Lachotta b, Fred Braceful dr.
Ganga Zumba lebt (Brazil-Jazz-Cance) feat. Pery Dos Santos & Hannes Beckmann
You must believe it!
Pery Dos Santos voc/perc/git, Hannes Beckmann viol, Joao Gomes ss/fl/midi, Edgar Wilson p, rudi Schröder b, Edir Dos Santos dr/perc, Martinho Fiuza choreography/voc/perc, Primo "Fomiga" Silva dance, Joje Watutsi dance, t.b.a. dance
Samstag, 17.09.1994
16:00 Fisherman's Break
fresh fish on saturday
Wolfgang Roth as/ss, cl/fl, Thorsten Klentze git, Manolo Diaz b, Rick Hollander dr.
Munich Jazz School Art Orchestra
Needs no education
Wolfgang Roth as, Hermann Martlreiter ts, Franz-David Baumann tp/flh/comp, Gerd Fink tb, thomas Reimer git, Max Neißendorfer p Chris Lachotta b, Sunk Pöschl dr
Scapelands
Tales from the land of scapes
Naomi Isaacs Stimme
Georg Janker präparierter Kontrabass
Eric Eriksson Schlagwerke
Special Guest: Dafydd Llywelyn Piano
Veterinary Street Jazz Band
Hey doctor, my pig whistles!
Hand Reidel reeds/leader, Peter Seufert reeds, Ingo Erlhoff reeds, Dieter Lauterbach cornet/voc, Gerhart Reichel tb, Achim Scherz p, Stefan Frühbeis sousaphon, Johnny Winkler bj/voc, Jack Jäger dr.
Die Interpreten
The roots of jazz are in Bavaria
Thomas Binegger ts/cl/bcl, Andreas Koll bs/acc, Erwin Rehling dr/perc
Wolfgang Schmid's Kick
What's an Offside?
Rick Keller saxes, Werner Klausnitzer keys, Peter Wölpl git, Kenny Martin dr, Wolfgang Schmid b
Sonjunto Sol Naciente
salsa merengue mambo bolero …. corazon
Claus Reichstaller tp, Jürgen Seefelder saxes, Hans H. Bettinger tb, Matthias Preißinger p, Manolo Diaz b, Angel Bolanos iya/perc, Julio Guerra itotele/perc, Brüning von Alten okonkolo/dr/timbales, Nancy Rodriguez voc, David Lenis voc, Ignazio Incorvaia voc, Antonio Guerrero voc.
Sonntag, 18.09.1994
16:00 St. Ohl
Was macht der Scheich im Kloster?
Floh Haas ts/fl, Stephan Lanius b, Günter Hillenmeyer dr.
Le Petit Chien
Barks and bites and …
Geoff Goodmann git, Bernd Hess git, Gunnar Geisse git, Alex Haas b, Peter Perfido dr.
The Fretless Frets
6 Bässe und 5 Oktaven
who's on first?
Alex Haas b, Rudi Schröder b, thomas Stabenow b, Henning Sieverts b, Gary Todd b, Chris Lachotta b
Four Stressmen & Andy Geer
The Moment When
A new collection of Jazz Pants O'mime
Andy Geer time/panto)mime, Mike Sim phonicsax, Alex Haas catbass, Sunk Pöschl livestyledrums, Andy Lutter momentpiano
Helmut Kagerer Quartet
Straight – no deviations!
Helmut Kagerer git, Tizian Jost p, Eugen Apostolidis b, Michael "Scotts" Gottwald dr.
Klaus Doldinger's Jazzport
The invitation to the Captain' dinner
Klaus Doldinger saxes, Roberto Di Gioia p, Marc Abrams b, Falk Willis dr.
Al Jones Bluesband feat. Angela Brown
Ladies & Gentlemen, thank you very much for coming and see you next time…
Angela Brown voc, Al Jones g/voc, Stefan Holstein as, Michael Alf p, Peter Schmid b, Oskar Pöhnl dr.